Description
br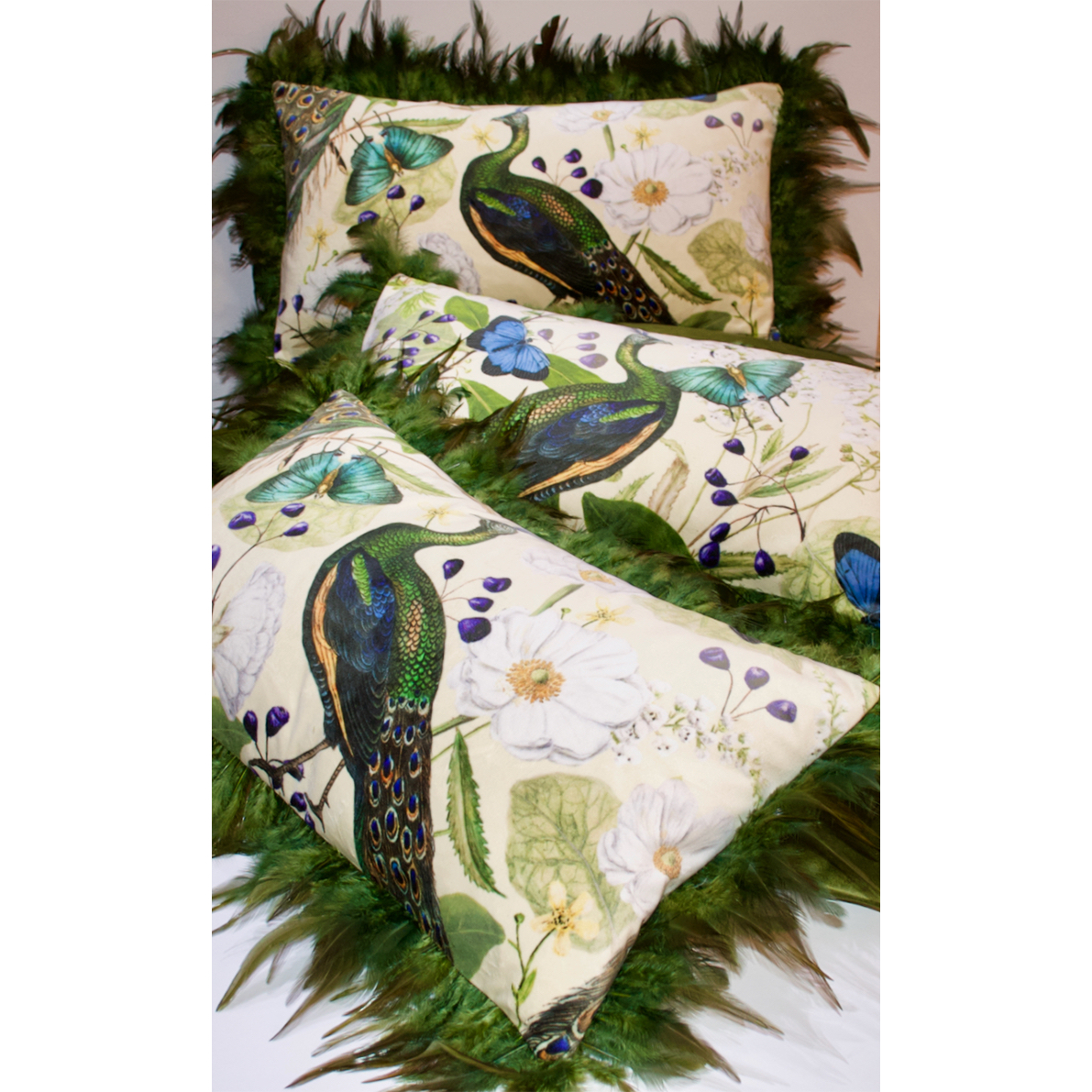 This tapered lampshade is handmade to order and available in two sizes. A stunning velvet design set against a Light Ivory background in a choice of brushed gold or silver lining. Peacocks and butterflies in a combination of jewel tones with white blooms, purple buds and verdant foliage with rich gold accents. To create a striking flamboyant, fun effect we have added an emerald green feather trim finished off with a luxurious light khaki braid top and bottom.
Top and bottom edges are hand rolled on all my lampshades.
**PLEASE NOTE PATTERN PLACEMENT ON EACH LAMPSHADE WILL VARY SLIGHTLY FROM IMAGE SHOWN DUE TO LARGE PATTERN REPEAT ON FABRIC** 
2 Sizes Available ;
SPECIFICATIONS:
40cm Top Diameter / 50cm Bottom Diameter / 30cm Height plus 'double layer' feather trim
35cm Top Diameter / 40cm Bottom Diameter / 24cm Height plus 'single' layer' feather trim
The ring fitting sits approx 40mm inside the shade
All my handmade shades are lined with a professional flame retardant PVC
Suitable for both standard UK and EURO size light bulb fitting.
Low energy bulb is recommended.
*SCREEN PHOTOS DO NOT ALWAYS SHOW TRUE COLOUR IF IN ANY DOUBT PLEASE REQUEST SAMPLES FOR COLOUR MATCHING*
**DUE TO THE LAYERS OF MATERIALS USED TO CREATE THIS SHADE THE LINING DOES NOT ALLOW THE LIGHT TO PENETRATE THROUGH THE SIDES THEREFORE THE LIGHT IS DIRECTIONAL GIVING A GLOW TOP AND BOTTOM. THE LARGER THE SHADE THE MORE LIGHT YOU WILL HAVE**